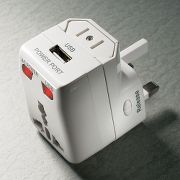 Sometimes I'll run across an item that looks like it was just made for this travel gear blog and I find myself saying "I've GOT to have one of those." The latest example is this fine little gadget:
The 150-Country Auto-Detecting Travel Adapter And Converter
. As long as that name is, it still doesn't point out everything this multi-use gadget does. It's also a compact surge protector, which is a good insurance policy in developing countries with fluctuating current.
The beauty of this device is that it lets you leave a lot of other stuff at home. It provides multiple plug adapters. It works as a USB plug-in. It automatically detects the voltage and converts it to 120 if needed. And check this out: "The device allows simultaneous AC and USB connection to charge two devices at once."
I'm all for traveling with as few gadgets as possible, but sometimes you've got to lug around a laptop, a cell phone, a music player, and a camera. This handy item makes all that a bit less painful. I haven't tested it out yet, but assuming it works as advertised, this is a breakthrough and a bargain at only $39.95 at
Hammacher Schlemmer
. Hey, sometimes browsing through that SkyMall catalog on the plane ride really
is
worthwhile!